PCD Pharma Franchise in Gujarat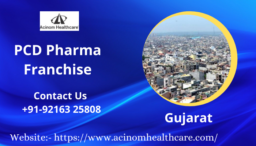 PCD Pharma Franchise in Gujarat- In the state of Gujarat; there is a big reason for the growth of the industry and the reason is many small and big PcD Pharma company setting up their business in Gujarat. Pharma business is not a small business to start and this is a plus point of PCD Pharma franchises in Gujarat.
Acinom Healthcare is offering not only pharmaceuticals range to our customers in Gujrat but also serving them all types of Ayurvedic, herbal, and cosmetic range. We are now a popular name in cities in Gujarat including major regions like Ahemdabad, Junagadh, Rajkot, Jamnagar, Porbandar, Gandhinagar, Bharuch, Vadodra, Surat, etc.  Our target I to cover all of Gujarat in 2021 and we know that Gujarat has great potential to hold PCD Pharma franchises and PCD Pharma Companies to supply medicines all over India.
Acinom Healthcare is completed for more than 10 years in Chandigarh. General Services, Gynae Service, Pediatric Service, Ortho Service, and several others are the key areas in which business works. Our company even gives offers to distributors or individual to start with 0% investment also. We will be proud if you join our PCD Pharma Franchise in Gujarat.
To be one step ahead of the market you should join PCD Pharma Franchises as soon as possible. To serve good quality medicines to every patient we have big manufacturing units and we are even ISO certified companies. Acinom Healthcare is now serving more than 500 products in Gujarat. We are now in the Top PCD Pharma Franchises and want to be the best PCD Pharma franchises
Why should you join with PCD Pharma Franchise and company or distributorship?
Many professionals Pharmaceutical experts know; that they don't have their proper gadgets in their hometown Gujarat and that's why they join PCD Pharma Franchise and companies. And this way we spread healthier environment around you. Their are many PCD Pharma companies that are exporting their medicines in foreign from Gujarat.
According to your capability; you can join PCD Pharma franchises or even start your own with the help of the Best PCD Pharma Company Acinom Healthcare. No matters how small or big you are working in Pharmaceuticals companies. You are required to invest your money and time in the best PCD Pharma company. If you are thinking of the benefits of joining PCD Pharma then we are here to tell you:
Investment & Risk:
If you want to invest in PCD Pharma then you don't need afraid of high investment or loss. PCD Pharma Franchise does not require high investment in starting. In Pharma Franchise you can start with a small investment which is wise planning. It would be possible to start the PCD franchise with just 20,000/- & PCD owners, with a benefit of up to 20% to 40%. If you want to start with low investment; then we have the best offers for you and our team is always ready to serve you the best possible facilities.
Monopoly PCD Franchise Rights:
The PCD Pharma Franchise has its Monopoly Franchise concept, one of the strongest advantages. Monopoly Pharma Franchise Companies shall grant the monopoly contract individual promotion and sale rights.