Ayurvedic is one of the oldest medical systems in the world. It is still used in India as a form of traditional medicine. Ayurvedic medicine includes products (mostly made from plants, but also occasionally from animals, metals, and minerals), nutrition, physical activity, and a way of life. Currently, approximately 75% of Indian families utilize ayurvedic herbal products, in contrast to only 48% in 2015. This places the ayurvedic sector among the top investment opportunities in the Indian pharma industry's fastest-growing segments. An ayurvedic product must pass quality checks established by the Quality Council of India (QCI), an independent organization founded by the Indian government and business community, in order to certify products as ayurvedic products. The infatuation with Ayurveda and everything pure and untainted is on the rise at the moment. The potential of ayurvedic products in the market is huge. Therefore, seeking the marvelous opportunities in the ayurvedic sector people are now heavily resorting to starting Pharma Franchise for Ayurvedic products. If you are interested, we assure you, that associating with Acinom Healthcare can be a turning point in your life.
Benefits of Using Ayurvedic Products
For the young, old, sick, well, and everyone in between, Ayurveda offers a wide range of therapies and treatments. This Indian medical method, which has been practiced for 5,000 years, has several profound advantages. Here are some of the main advantages that using Ayurveda regularly might bring about.
Boosting defenses and halting disease pathogenesis.
Improving digestion and waste removal capability.
Stress and anxiety are lowered by feeding the neurological system.
By releasing the accumulated waste, it helps to reduce bloating and poor digestion.
Ayurveda focuses on personalized treatment and enhances both the internal and outward aspects of the body.
Enhancing one's capacity for restful and restorative sleep.
Promoting strong bones, good hair, and nails.
Overall enhancement of balance and sense of wellbeing
Range of Pharma Franchise for Ayuvedic Products in India
With millions of individuals shifting their preferences to healthy lives and eating practices, there is a large demand for Ayurvedic products in India. Consumers are increasingly turning to the Ayurvedic and herbal markets due to the trend toward natural ingredients. By 2024, it is predicted that the Indian ayurvedic market will be worth INR 710.87 billion. The advantage is significant, opening up more chances for people who genuinely wish to launch their own firm. Here are several perks that come with picking a Pharma Franchise for Ayurvedic products:
Businesses are offering pharma franchise for ayurvedic products with monopoly rights.
Obtaining an Ayurvedic Pharma Franchise requires a very small investment.
The growth in ayurvedic rejuvenation and treatment centers across India has led to an increase in ayurvedic tourism.
You will work on your terms, so there won't be any work pressure.
You could never go wrong with a pharma franchise for ayurvedic products with the rising demand for ayurvedic products, making profit will never be an issue.
At Acinom Healthcare, we are dedicated to maintaining the highest standards for our products. We encourage a quality attitude to make sure of this. We specialize in delivering, packaging, and providing high-quality services consistently. Additionally, as a leading pharma franchise company for ayurvedic products, our staff keeps up with the demands of a constantly evolving and expanding consumer base, which benefits our business partners.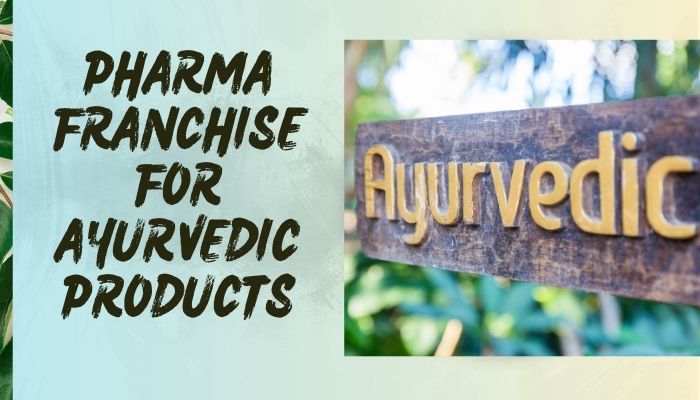 What you should look for when choosing an Ayuvedic Franchise Company?
Franchises can be less risky than independent firms, but they still come with different levels of success and profitability. Franchises can vary greatly in terms of profitability. When people consider the personal and professional characteristics of a good franchisor. Also, some attributes stand out more than others, especially in the pharma franchise for ayurvedic products. Some of them include:
Support
The management approach and style are highly important qualities to consider. Personal encouragement for the franchise associates and team members can be quite helpful. To enable franchise partners to perform their duties and advance the network, it is crucial to develop a framework that provides them with crucial backup.
A Track Record of Success
The likelihood of your franchise succeeding considerably increases when the parent firm has demonstrated success with several franchises. Franchises with a sketchier track record could still succeed, but the risk is significantly higher.
Fairly Priced
This may not necessarily imply a cheap price. A franchise with a high potential for profit will probably be more expensive than others, but it will also provide a higher return. If the franchise will make more money, don't be scared to pay a bit more. There are methods for determining a reasonable price to pay and an expected return on investment.
In-depth Knowledge of the Industry
The pharma franchise company you choose should be an industry expert. Franchise owners run the risk of letting their whole network fall behind if they don't stay on top of industry changes and trends. So, in such situations, only a highly experienced and well-reputed pharma franchise company can come to its rescue. On the other hand, you
should also be eager to keep learning and prioritizes market research and industry-specific learning in their weekly agenda, especially when the franchise is unrelated to your former employment. The most successful franchise companies share market research with their networks of associates so that everyone may continue to develop.
Acinom Healthcare warmly invites all enthusiastic people, business prospects, and pharmaceutical distributors to join forces with us for the best ayurvedic franchise business venture. Experienced pharmacists, wholesalers, and distributors can now create an Ayurveda herbal franchise in their selected area. For the manufacturing of ayurvedic and herbal medication solutions, we strictly adhere to GMP and ISO standards. High-quality standards are guaranteed by Acinom Healthcare for all of our products. We want our customers to receive the finest Ayurvedic goods possible. Therefore, we adhere to all applicable international quality standards.

FAQ'S
Q. What is a pharma franchise for Ayurvedic products?
Ans. Ayurvedic product distribution and marketing rights are granted by a pharmaceutical firm to a person or organization through a commercial agreement known as a pharma franchise.
Q. What are the benefits of starting a pharma franchise for Ayurvedic products?
Ans. Opening a pharmaceutical franchise for ayurvedic products has several advantages, such as:
* Low startup costs
* Exclusive rights
* Marketing assistance
* Brand recognition
Q. How do I find a good Ayurvedic pharma franchise?
Ans. There are several things you may do to locate a reliable Ayurvedic pharmaceutical franchise:
* Conduct research: Consult other franchisees, read internet evaluations, and go to the franchisor's premises.
* Keep your needs in mind: Verify that the franchise aligns well with your qualifications, expertise, and financial capacity.
* Ask the correct questions: Be sure to enquire about the investment necessary, the marketing assistance provided, and the recognition of the brand when you meet with the franchisor.
Q. What is the initial investment required for a pharma franchise for Ayurvedic products?
Ans. Depending on the franchisor and the region of the franchise, a pharma franchise for Ayurvedic goods may require a different initial investment. But normally, it falls between a few thousands and a few crores.
Q. What is the training provided by the franchisor?
Ans. Usually, the franchisor will teach the franchisee on the company's operations, marketing, and goods. Both in-person and online training options are available.
Most Searched Keywords:
Pharma Franchise for Ayurvedic Products
Top Pharma Franchise for Ayurvedic Products
Best Pharma Franchise for Ayurvedic Products
Pharma Franchise for Ayurvedic Products in India
Pharma Franchise Company for Ayurvedic Products